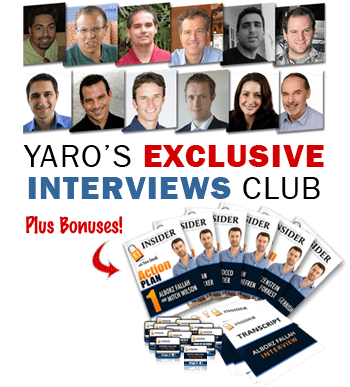 $99 One Time Payment
Your one time payment grants you instant access to the Exclusive Interviews Club, including:
Immediate access to all 12 brand new exclusive interviews with millionaire bloggers and email marketers – Go behind the scenes and learn how they first got started.
Immediate access to all 6 Action Plans written by Yaro, detailing leverage points each guest used to get to the next level, including action steps for you to take to replicate their results.
Professionally produced text transcripts and show notes for every interview.
Bonus interview with Tim Ferriss (find out how he first made money online before he was famous) and another surprise guest
Access to The Podcast Vault of over 100 interviews and growing!
Plus 10 interviews previously only available as bonuses with Yaro's high end coaching programs (including Darren Rowse and Brian Clark).
All available as digital downloads in MP3 audio and text PDF from the membership area.