From: Yaro Starak
World Renowned Authority On Making Money With Blogs
Founder of BlogMastermind.com
Why Is It Some People Get So Much More Done And Earn Bigger Rewards, Yet Others Struggle Just To Get Started?
Let me reveal to you how you can become one of the rare few successful bloggers who get real results using less time.
You don't want to be one of the majority of people who waste hour-upon-hour and never build a money making blogging business.
I bet there's a few key things that you don't even realize you're not doing right now… that would make a huge difference to the amount of actual output you create on any given day.
You see most people spend their time
on the wrong activities
And because they spend so much time doing the wrong thing…
After a month or two they're not moving forward with their business
…And they don't understand why.
The awful thing is, they feel like they're working hard! They're not getting enough sleep because they're trying to juggle their job (and the kids and everything that goes along with it) as well as grow this business on the side…
But for some reason, no matter what they do, there just doesn't seem to be any significant movement forward.
Sound familiar?
Well what about this…
What if I had a guide that would help you turn that all around to where you're actually working less but you're getting WAY MORE done by using just 3 really powerful techniques.
What do you think… would you be interested in this guide?
I thought you might be.
So let me tell you what you're going to get out of it.
But before I do, I'd like to introduce myself.
There's a good chance you already know who I am, but in case you don't here's a quick snapshot:
This is Me…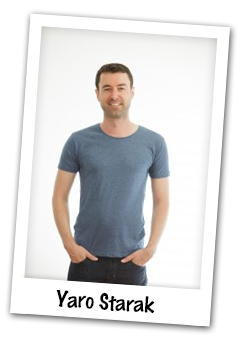 I have –
Been making a living online for over 12 years
Started blogging in 2005 and was making $20K/month by 2007
Made a million dollars selling my own products and affiliate promos from my blog
I've taught 2000+ coaching students across the world
Never had a full time job!
Done most of my work from laptops in cafes around the world
Have real results helping others make money from their own blog in different niches, even complete beginners
Now, back to it.
Okay, I'm not going to mince words.
The first 3 techniques in the beginning of my Master Your Mindset guide…
Really are the kick in the pants to get you started!
I've kept it to 90 pages so there's no fluff or filler. It's simply packed with the core stuff you need to know if you want to succeed.
Side Note: No matter WHAT you do, you'll keep failing if you don't get your mindset and productivity right
I've combined traditional thinking about productivity and mindset, but also spotlighted what I've realized have become the most important things to me as a successful blogger and online entrepreneur.
So to help you get the most out of this guide, I've broken it into 2 sections:
The Productivity Section
This is where you'll find:
The 3 most important productivity concepts for getting things done:
Choose the most important activities
(The 80/20 rule)
Prioritize those activities in the order that makes the most sense
(Theory of Constraints)
Do them in concentrated periods of activity
(The Sprint Technique)
After I introduce you to these 3 primary concepts, I provide more targeted productivity techniques to help with the following challenges I know you face.
"How to stay productive when you feel like giving up"
Everyone has times when they're feeling crappy and not very motivated. This chapter addresses the issue and shows you exactly how to charge through that barrier.
Locating your "Productive Sweet Spot" and using it to build the right structure around your life for getting things done.
Want to have a 2-hour work day and spend the rest of your time enjoying yourself? I will explain how you can do it.

The Entrepreneur Mindset Section
In the second half, you'll discover:
The 3 main reasons why people believe they FAIL –
Physical and environmental constraints
Lack of understanding or skill
Lack of resources
These 3 problems stem from the one issue – your LIMITING BELIEFS
I'm going to show you how to smash through these "problems" and explain how to deal with damaging thought processes that destroy your chances of success before you even begin.
Common fears: Do any of these sound familiar?
"If I'm going to create a blog or product, why would anyone care, why would anyone read or buy it?"

"I don't know what to say or how to come up with new content all the time! – I am not an expert!"

"There are too many people doing it already, there's too much good competition!"
These are more limiting beliefs, and I'll show you how to conquer them too.
Then I introduce you to some of my most powerful positive mindset techniques, including…
The often mis-understood concept of "Inevitability Thinking". This insight is all about knowing if you follow a proven process and set up the variables to support that process, you get a guaranteed result.It is a powerful idea that ties into the next critical mindset hack I cover in the guide…
Positivity Training And Learned Optimism. In order for you to achieve success online you have to believe that you can, and support your beliefs with thought patterns that help rather than hinder your progress.This is where positive psychology it absolutely vital.
How to actually start your business when life is already too busy. This chapter covers limiting belief issues like "There's too many things going on in my job and I can't get any work done" , "I'm not sure what kind of business I need to start" and "I have too many ideas."…and much more.
Can you do it alone?
You don't need to build a massive team from day one. I'll show you when to reach out and when it makes more sense to do it yourself.
How to choose the right opportunity. Everyone is always saying this or that is the opportunity of a lifetime and it can feel overwhelming! What do you choose? What if you miss out? What if you make the wrong choice? I'll show you how to remove the feeling of overwhelm and pick what's right for you based on your current situation and skills.
IMPORTANT QUESTION: "Are you drowning, treading water, or swimming?" Have a good look at what you do each day… are those activities moving you forward, keeping you where you are or actually taking you backwards?
How to break the pattern of average results… and start getting BIG results! How people go from just-surviving to life-changing results. Hint: Figure out what you do well, and do it well over and over again.
Manufacturing perfect timing. I'll show you how you can be in the right place at the right time with your business. You don't need to rely on luck or chance to succeed, there is a formula that delivers results.
And I end with a BANG! –
7 tips to help you make a million dollars – What I consider THE MOST important parts of what I've done with my business that led to making a million dollars online.

Only $49 Includes E-Guide + All Bonuses
To make this the complete package and reward you for taking the super important step of getting your productivity and mindset in order,
I'm Throwing In These Priceless Bonuses
Bonus #1: Master Your Mindset Audios
My Brand New 5-Part Series In MP3 And PDF
Master Your Mindset Audios
Series 2
These are FIVE brand new, half-hour long each audio recordings packed with my best ideas. They are current and feature what I have learned and applied as the KEY productivity and mindset techniques from the last couple of years.
The audio is just me talking to you in MP3 download, or you can read the premium transcript created by USA based transcriptionists with English as a first language.
Listen in when you are jogging or bike riding, driving to work, catching a plane, going for a walk or hitting the gym.
These are not available anywhere else and you can download them all instantly after you order my Master Your Mindset E-Guide package.
The topics covered are:
| | |
| --- | --- |
| | Theory of Constraints – I reveal how this concept came into my life, why I believe it is the most important focus tool you will ever come across, and how exactly can you apply it to blogging and information marketing. |
| | The Sprint Technique – Taken from the world of software development, I explain how you can apply micro-bursts of super-focused productivity to your blogging business. |
| | Lean Product Development – Lean is cool right now in the world of startups, but we can apply it to blogging too. I'll show you how to use lean methodology to test your blog and info product ideas quickly. |
| | Energy Management – This is such an important audio. You may not realize this, but what you do when you are not working is as important as when you do work. I'll explain why, introduce you to the Ultradian Rhythm and more in this mindset session. |
| | Inevitability Thinking and Positivity Training – I learned to apply techniques like positive psychology and CBT in response to panic attacks when I was younger. In this audio I will explain how this experience led to one of the most important mindset changes I have ever made and how it applies to your business. |
Bonus #2: Outsourcing Online E-Guide
(How To Hire Local Stay-At-Home Mums)
How To Grow Your Online Business,
Free Up Time, And Make Your Life
Easier By Hiring Virtual Workers
You'll discover:
The Controversy of Outsourcing: Is it
exploitation to pay someone $2 an hour?
Nuts and bolts: When is the right time to
begin outsourcing? What are your goals?
Why would you use outsourcing? What constraints can you outsource to other people?
How you can start outsourcing even when you have very little money. PLUS what to do to create enough cash flow to cover outsourcing
How to manage your customer service as a one person enterprise and when it's time to expand
The Exact System I used to hire people in advance – every company should do this!
The history of my own experience: what I did to help make my business run better… without me doing any work!
Case study: How I actually hired my first help person and what they did
You might be surprised to know I have not had much success outsourcing with sites like Upwork or Freelancer or Fiverr.
It's not that I don't recommend these services – I do – but nearly every single good virtual worker I have hired was a contractor from my country (Australia) who I found through networking online (social networks, blogging, email newsletter, forums) or offline (friends of friends, networking events).
This guide explains how I have hired mostly stay-at-home mums and local freelancers. I think you will find it different to most outsourcing guides out there.
Bonus #3: Classic Master The Mindset Audios
The Original 10-Part Audio Series in MP3 & PDF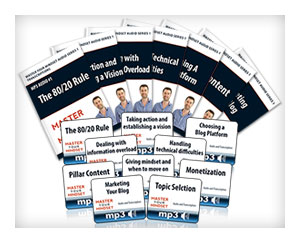 Master The Mindset Audios
Series 1
Background Story: I created these audios 2 years after I started my blog and gave them to my very first paid blog coaching members.
I'd just been through the initial stages of building a blog from zero to making $10,000 a month using advertising and affiliate income.
The techniques I used were very fresh in my mind when I sat down and recorded each of these mindset sessions.
Although these audios were produced years ago, I was very much focused on fundamentals when I recorded them, and fundamentals don't change. You will hear the odd dated comment, but 99% of the content is just as applicable today as it was back then.
Every new or even experienced blogger should listen to these at least once (my previous coaching members have given me so much positive feedback on these, I know you will love them).
I cover these topics:
The 80/20 rule
Taking action and establishing a vision
Dealing with information overload
Handling technical difficulties
Choosing a blog platform
Pillar content
Marketing your blog
Giving mindset and when to move on
Topic selection
Monetization
Each of these three bonuses are available for immediate download along with the Master Your Mindset e-Guide. That's 15 audios and two E-Guides all in the one package.
Here's how to order:
Order Now To Access Bonuses – All Instant Downloads!
Get immediate access to your digital copy of:
Master Your Mindset
Productivity and Mindset training
for Professional Bloggers
Only $49 Includes E-Guide + All Bonuses
Plus FREE Bonuses!

Bonus Number One:
Master Your Mindset Audios (NEW – Series 2): Five 30-Minute sessions covering my very best productivity techniques – listen to one per day during your first week and I know it will change your life

Bonus Number Two: Outsourcing Online: How to Grow Your Online Business, Free up Time, and Make Your Life Easier by Hiring Virtual Workers
Bonus Number Three:
Master the Mindset Audios (Series 1): What it takes to build a blog from zero to making $10,000 a month using advertising and affiliate income

Only $49 Includes E-Guide + All Bonuses
Why is it so important to get your copy now?
Like I said back at the beginning:
"No matter WHAT you do, you'll keep failing if you don't get your mindset and productivity right"
That's why it's so important to get your copy of this guide today.
If you repeat what you have always done, using the same way of thinking and the same way of working, then you will get the same results.
This is the truth…
"EVERYTHING is down to your mindset: It is the single most important asset you have to create a profitable online business."
Don't mess around, sort this out from the beginning and enjoy the feeling of satisfaction that comes from meeting your goals.
All you have to do is think right and do the critical actions in the intelligent order… using this guide is the perfect way to get that foundation in place.
…And from there you just rinse and repeat each day.
Identify Highest Impact Activities
Determine What Is Needed To Complete Them
Set Up Conditions For Success
Execute In The Optimized Order
Narrow Your Focus To Daily Tasks
Do this, and you won't get that sense of overwhelm, instead you will know you are moving forward.
You'll see progress because you're working on only the most important things.
You'll eliminate any fear or stress that you're doing the wrong thing, or there are other things you could do instead, because I teach you how to see the clear path to success that is in front of you.
CHOOSE YOUR OPTION
E-Guide Only: $49
You receive the complete "Master Your Mindset" Eguide Package, including 110page guide and two bonuses, all as instant downloads.
That's it from me, I'll see you on the inside of the members area.
To your mindset, productivity and blogging success,

Yaro Starak
Yaro.blog
Order Now and Receive these bonuses – Risk FREE
Get instant access to your digital copy of:
Master Your Mindset
Productivity and Mindset training
for the Internet Entrepreneur
Only $49 Includes E-Guide + All Bonuses
Plus FREE Bonuses!

Bonus Number One: Master Your Mindset Audios (NEW – Series 2): Five 30-Minute sessions covering my very best productivity techniques – listen to one per day during your first week and I know it will change your life

Bonus Number Two: Outsourcing Online: How to Grow Your Online Business, Free up Time, and Make Your Life Easier by Hiring Virtual Workers
Bonus Number Three: Master the Mindset Audios (Series 1): What it takes to build a blog from zero to making $10,000 a month using advertising and affiliate income

Only $49 Includes E-Guide + All Bonuses