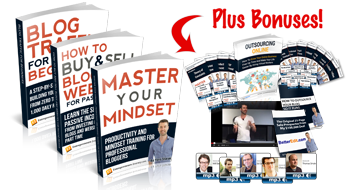 One Time $99
Your one time payment grants you instant access to all 3 E-Guide packages, including:
Complete 110-Page step-by-step guide to build your blog traffic from zero to 1,000 subscribers.
Complete 72-Page E-Guide – Learn the secrets to passive income from investing in blogs and websites in your spare time.
Complete 90-Page productivity and mindset training e-guide so you can get done twice as much in half the time.
Bonus #1: Outsourcing Online – How to grow your online business, free up your time and make your life easier by hiring virtual workers.
Bonus #2: How to outsource your blog (hire both paid and volunteer writers) so it runs without you.
Bonus #3: The 5-Part 'Master Your Mindset' audio series including training on energy management, lean product development and the theory of constraints.
Bonus #4: The Classic 10 Part 'Master The Mindset' audios featuring training on the 80/20 Rule, information overload, and establishing a vision.
Bonus #5: How to buy and sell blogs and websites for passive profits – LIVE Conference Presentation.
Bonus #6: The original 21-Page 'sale prospectus' from Yaro's $100,000 website deal.
Bonus #7: Case study interviews – Four website flipping behind-the-scenes stories and an interview with a professional website broker..